A Close Look on Us

Palakkad

Maharashtra

Kasargode
A Close Look on Us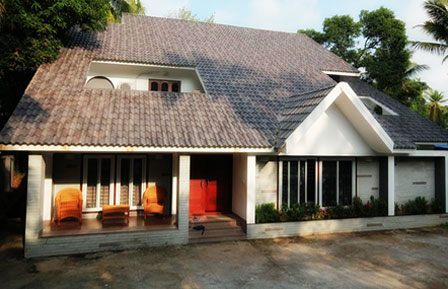 Shelter is one of the basic necessities of life. Man has ever been striving to evolve better roofing solutions that will withstand the test of time. Pionnier Roofing, commissioned in April 2008, aims at providing a dependable solution for your roofing needs. We are into manufacturing of profiled Concrete Roofing tiles and fittings that are not only durable but also affordable. Pionnier has its own state of the art manufacturing units set up with Japanese technical assistance at Palakkad, Kerala and at Kolhapur, Maharashtra. Now to spread the wings for the national presence we have started our 3rd plant at Kasaragod, Kerala with infused European Extrusion technology. The Company is led by a group of experts with more than two decades experience in this industry. With the backup of Japanese technology support we, at Pionnier Roofing, strive to provide complete roofing solution at a reasonable cost.
A Close Inner Revelation
The hi-tech manufacturing units of Pionnier Roofing meets all international standards and has an average production capacity of 4200,000 tiles and fittings per annum. Our experienced and professional staff strives to offer products and services that are both innovative and customer oriented. Strict quality control and commitment to excellence is our prime objective. The highest quality of our product combined with appropriate expert installation ensures superior performance and protection against the various natural elements for years to come. At Pionnier Roofing , we understand roofing and all it takes to provide exceptional quality product with the best performance.
A Close Touch
Our research and development wing comprises of a diverse team of Professionals and Technologists with expertise in various areas of covering material science, concrete technology, structural engineering and manufacturing. Each and every stage of production is subjected to rigorous testing so as to ensure optimum results in every condition. Our production department maintains a close coordination with the sales and marketing departments to keep track of the feedback and response of our customers. This helps us in improving the quality of the product and also in coming out with innovative products as per the existing market demand.
Our Vision Making You Closer
The vision of Pionnier Roofing is to be the favorite provider of roof systems and components in India at an affordable price. Furthermore, we would like to do this from plants Closer to your location, wherever you are. Pionnier Roofing believes in continuous improvement of health and safety for all associated with the company and we give utmost importance to environmental protection. Pionnier Roofing believes in working in harmony with the nature and gives utmost importance to environmental protection.
PIONNIER ROOFING COMPANY
Palakkad, Kerala State. INDIA.
(Nearest big towns Coimbatore- 30kms and Palakkad -15 kms.)
Pionnier Roofing Company, was the First venture of Pionnier Group commissioned in April 2008. This was first time an Indian company started manufacturing High Quality coloured concrete roof tiles and fittings. The profile of the tile is designed by our Japanese technical team with very unique features. The plant has a manufacturing capacity of producing 1200,000.00 tiles per annum. This plant can cater to the markets of Tamil Nadu & Kerala being logistically close.
PIONNIER ROOFING SOLUTIONS INDIA PVT. LTD.
Halkarni MIDC, Kolhapur Dist., Maharashtra State, INDIA.
(Nearest big towns: Belgaum -24 kms and Kolhapur -110 Kms.)
In line with our vision to make you closer to our product reach, the Pionnier Group decided to start the 2nd venture at Maharashtra and started the plant in 2010 and commencing the commercial production from 2011 onwards. This plant also was commissioned with the technical support from our Japanese technical support Consultants. By taking this opportunity, we introduced a new tile profile with a Bold Roll feature on the tile. Ever since the launch this SAKRUA profile was very widely accepted in all the markets where ever it was introduced. We have successfully completed many large sized projects with Sakura tiles especially in GOA, MAHARASHTRA & GUJARAT.
PIONNIER ROOF TILE INDIA PVT. LTD
KIFRA Industrial Park, Kasaragod, Kerala State, INDIA.
(Nearest big towns Mangalore – 30kms and Kasaragod – 14kms)
The ever increasing demand of Pionnier tiles pushed the management to start a State of Art High Speed Extrusion production facility in the year 2013. Here we adopted a European technology and the entire production line has been installed as per the European standards and specifications.
This high speed manufacturing unit can produce 1800,000.00 tiles per annum.
The plant has been conferred with ISO9001 certification in the year 2015 and follows all the guide lines and process control as prescribed by the ISO norms.
A customer is the most important visitor on our premises. He is not dependent on us. We are dependent on him. He is not an interruption in our work. He is the purpose of it. He is not an outsider in our business. He is part of it. We are not doing him a favor by serving him. He is doing us a favor by giving us an opportunity to do so.
-Mahatma Gandhi